Are you looking for a way to enable dark mode on Kik?
Kik is a fun messaging app where you can chat with your friends or family member, send photos and videos, meet new people, and also make live streaming videos.
Normally, you have a plain white background theme on Kik including the chat section. It is good when you are chatting with someone during the daytime but the nighttime is not suitable for the bright white theme isn't it?
So, Kik has introduced the "Midnight" theme that converts your regular theme into night mode.
Today, you will learn to use the Kik messenger dark theme on chat and activate dark mode on the app with the help of a few simple steps.
What Does Dark Mode on Kik Mean?
Dark mode on Kik converts its UI (User Interface) design from the light screen to the back and night screen. It usually covers all the app UI (homepage) surfaces including the chat section, settings, and other overall features of the Kik app.
When you enable the dark mode on Kik messenger then your normal light screen will change into the dark screen. You will see the difference between in every part of the Kik app while using it.
Night mode is quite suitable during the nighttime because it doesn't actually put much effort into your eye when you are looking into the screen. On the other hand, the light mode will give a little bit of pressure on your eye because of the white bright light.
You have to lower down your mobile device brightness during the night if you have a light mode or white screen on the app.
Therefore, today most of the app includes the "Night Mode" feature to make feel easy for users while interacting with the app.
How to Enable Dark Mode on Kik App?
To get dark mode on Kik messenger simply go to the chat settings of the Kik app and enable the "Dark Mode" feature.
Now you will have a night mode on your chat section and you can talk with your friends all night without worrying about your eyes.
However, dark mode usually uses more of your device's battery power than the normal light mode. However, if only you used the device default dark mode feature. You will see your battery power is draining a little bit faster than normal. It won't reduce your device charge from 100 to 80 in 10 minutes but you will see a little bit of difference.
Other than this, Kik live feature doesn't have a night mode feature. It means you will get the same light mode while interacting with live streaming videos and going live.
Now, let's see the simple steps to activate dark mode on Kik app.
Open Kik App
First of all, open the Kik app on your device whether it's Android or iOS. If you still haven't downloaded Kik messenger then do it first before moving to the further steps.
Plus, if are using Kik after a long time then you may have to log in to your account.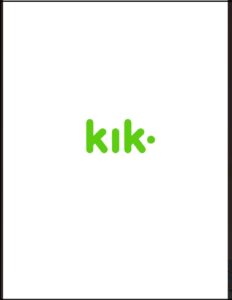 Tap on Settings Icon
After accessing your Kik account then simply tap on the "Settings Gear" icon from the upper right corner of the screen.
On the Kik settings, you will have an option to manage your account, your Kik code, your web history, notifications, chat settings, and privacy.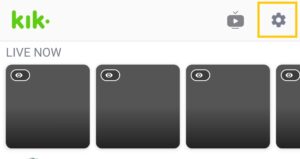 Select Chat Settings
Now, tap on the "Chat Settings" option in order to turn on dark mode on Kik messenger.
Inside the chat settings, you can also manage your Kik enter key send option, chat bubble colors, auto download videos from chat, and auto-play videos on chat inbox.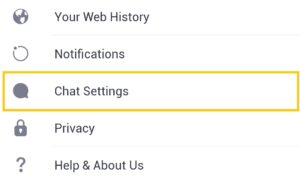 Enable Dark Mode
Finally, turn on the "Dark Mode" option to get a midnight theme on Kik.
This is how you can change the theme on Kik app with the help of few easy steps. Now, in case you don't want to use the night mode on Kik then simply reverse the process and disable it from the chat settings.
Besides, sometimes you can't find dark mode in every chat inbox. It is successfully applied on your Kik group and other friends' inbox but some of the chat still can have a light mode.
In that case, simply disable the dark mode and re-enable it once again. You may have to repeat the same process a few times.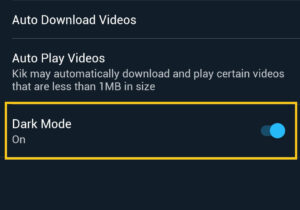 How to Enable Dark Mode on Kik on PC?
Kik doesn't allow you to access your account from its official website. If you want to use Kik on PC then you have to download the Android emulator and install the Kik app on the emulator.
To get Kik for PC you can choose any Android emulator you want such as Bluestack, Genymotion, NOX, MEmu, Leapdroid, Andy, and more.
After downloading the emulator on your PC, follow the rest of the steps to turn on dark mode on Kik.
Install the Android emulator on PC.
Go to the Google Play Store.
Search and download the Kik app.
Install and run the Kik on PC.
Go to the Kik "Settings".
Choose the "Chat settings".
Enable "Dark mode".
Now you are using the emulator to run the Kik app, you may find it difficult to activate the dark mode. In some cases, you also may not find the "Dark Mode" option on the app.
So, it depends on the android emulator version and how often they update their tool. That's why make sure to download the latest version of the Android emulator and the best one. For that, you can prefer the "Bluestack" Android emulator.
How to Activate Dark Mode on Kik from Mobile Settings?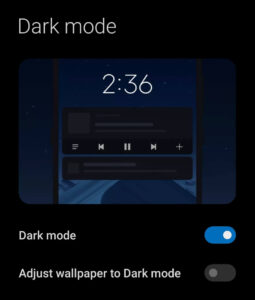 You can also follow the alternative method to turn on dark mode on Kik without going from the Kik app.
If you have a "Dark Mode" feature on your mobile device then you can simply switch it on and you will have an activate dark mode on the Kik app too.
The dark mode option is only available on Android devices and mostly on the latest devices. If you are using the iPhone and older devices then you don't have any dark mode feature available.
Besides, the device dark mode feature uses the light black theme on your Kik but the original dark mode feature of Kik uses light-dark and bluish color.
Now, let's see how you can enable dark mode on an Android device.
Swipe down the notification bar.
Swipe left from right on the widgets.
Now, tap on the "Dark Mode" option.
Why Does Dark Mode Not Working on Kik?
Kik is testing the dark mode feature on its app so that users can change the background theme color from light to dark.
You can use the night mode on the app but still, it's not applying to every part chat inbox. So, you might feel trouble activating the midnight theme on Kik.
Recently, Kik also vanishes from the Google Play Store for some reason. At that, users are having trouble properly accessing some of the features on the app. But now, Kik is once again back online on the Google play store and App store.
So, if Kik doesn't allow you to turn on the "Dark Mode" feature then here are the few troubleshooting solutions that you can use to fix it.
Disable the dark mode and enable it once again.
Restart the Kik app.
Check your internet connection.
Restart your device.
Use Device dark mode feature.
Log out from the app and re-login.
Update the Kik app.
Re-install Kik app.
Contact Kik customer support.
Does Dark Mode Reduce Battery Life Faster?
The dark mode is quite efficient for those devices that use a dark pixel on screen rather than light pixels. It will minimize the light from the screen or display much faster than the light screen.
So, does dark mode save battery on Android or other LCD and ips displays?
In some cases, yes, a dark mode can save your device's battery life by 4% – 6%. It will reduce the light from the device and increase the percentage of your battery.
However, it depends on how you use your mobile device. If you use the device brightness to a maximum or even half then dark mode doesn't help you to save the battery percentages. Similarly,  if play games all the time continuously without a break or video chat with someone or take a picture or video then enabling dark mode doesn't do much effect on saving the battery life.
It will drain your battery percentage if you are on light mode or dark mode. So, dark mode only saves a little bit of battery percentages of your device.
Frequently Asked Questions
Is Kik a Dating App?
No, Kik is not a dating app where you can find people and date them or something else.
Can You Facetime on Kik?
No, you can facetime on Kik messenger.
Is There a Dark Mode on Kik?
Yes, you can use dark mode on Kik messenger.
Can People See My Kik Location?
Kik doesn't share your location with anyone unless you manually share it with your friends or other people.
Can You be Traced on Kik?
You usually can't be traced by someone on Kik unless your account is hacked or you're watched by the police or an FBI.
Can You Screenshot on Kik Messenger?
Yes, you can easily screenshot on Kik without knowing the user.
Final Verdict
Night mode is a cool feature that every app should have these days. It will protect our eyes from the bright white screen during the nighttime while talking with friends or watching something.
So, if you are a Kik user then you can easily change your theme color from light to dark. Just remember to refresh it multiple times if you can't able to use the dark mode on your account.
How do you like the dark mode Kik? Let us know in the comment section.
Related Articles