Do you want to go live on Kik?
Kik is probably the best chat messaging app to talk with strangers and friends all around the world. You can share a picture, video, send gif or memes, stickers, emojis, make public or private groups, and send sketch messages.
Now Kik rolls out another new feature called "Go Live" on its platform a month ago (somewhere June 9, 2021). You can go live or make live streaming on Kik for free with a recent new update. Not only that, you can even watch other Kik user's online stream videos and send gifts to them.
If you want to go live on Kik then you have to tap on Live TV icon and select the "Go live" option. After that, accept the terms and conditions of live stream and start your live stream video on Kik.   
So, if you are excited to show something to your friends or large online audience on Kik through stream then you are in a right place. Today you will learn to make streaming videos on the Kik app on both Android and iOS devices.
Introduction of Kik New Live Streaming Feature
Now you already know that users can go live on Kik which means you can create a live streaming video on Kik app. It is the best new way to interact with people through real-time live streaming video.
So, what can you do with Kik messenger live stream feature?
Make New Friends
The most and effective way to communicate with people all over the world is with the help of live streaming videos. It is a basic fundamental thing to make new friends and connect with them.
So, if you start streaming on Kik then you can meet lots of new people from anywhere around the world. It doesn't mean that you need to add them on your Kik app, simply make a live streaming video and people who uses Kik will join your video if it's interesting to them.
Talk with New People
When you make new friends on Kik through live video then you can share your interest with them. You can share your personal life things like your life running tips or the stuff that makes you motivate or something like that.
Once you find people with similar interests or you can win the heart of viewers on streaming video then you can start sharing your business ideas.
Earn Gifts or Rewards
You can also earn tons of rewards while doing online streaming videos on Kik. If viewers or audience like what you are creating or making on live then they can send you lots of gifts. More, you can exchange the gifts that you will receive on your Kik live video to real money or buy other stuff.
Increase Your Followers
If you can make a good quality live video on Kik then you will definitely increase lots of followers on your Kik profile. So, the best way to gain trust and promote your Kik profile is to make a quality online streaming video and get the attention of an audience.
Increase Your Business Profile
If you can build tons of followers on Kik from streaming videos and you are getting good comments on your live video then you can slowly introduce your business.
If you are running a personal business and want to grow it then you can share your business profile on your Kik live video. You can slowly keep pushing every section of your business day by day.
But remember, don't over do it. It means don't promote your business every day and only talk about it. Simply keep following what you are doing on Kik streaming video and sometimes include your business on it.
How Does Kik Live Stream Work?
Kik live stream is basically a live feature that allows you to go live.
It is a similar feature just like on the Bigo app on where you interact with a large audience from all around the world.
When you start your streaming then Kik will put your live on their live stream section. So, if users visit the live section of Kik then they will see your stream.
Likewise, there are also tons of other streamers in one single place. So, you have to compete with them in order to get more views on your stream and get popular.
Saying that, if you want to increase your Kik live stream viewers, hearts, gifts, and diamonds then you must have to use a good profile picture. In addition, you also have to write an eye-catching description of your stream and a title.
If you manage to get the attention of large users then they will give you more gifts and hearts. It will help you to increase the status of your stream from newbie to leaderboard.
When you reach the leaderboard status then you will get even more viewers on your video because of its popularity. It is a good sign to earn money and also become famous on Kik live stream.
What Are the Rules of Kik Live Stream?
There are certain rules which you need to follow before going live on Kik messenger.
Kik is trying to make a clean environment for all users who watches other people stream. So, if users will find disturbance because of the stream then they will lose lots of active users which is not a good sign for Kik.
So, here are the must-follow policy and rules while starting a live stream on the Kik app. If you violate these following rules then Kik will either ban your account or disable it.
You can't use Nudity or Pornography on your stream.
You are not allowed to use hate speech or bullying.
If you find streaming illegal activity then Kik will ban your account.
You can't stream with Minors or include them.
Under-age users are not allowed to stream on Kik.
How to Go Live on Kik? [Android and iOS]
To go live on Kik first you will just need a Kik account and good profile pictures on it.
Once you created a Kik account and set up your profile section then you can start online stream video on Kik.
Keep that thing in mind that, it will be even better if you have followers or friends on Kik.
When you start streaming on Kik then other people can also request you to join your online stream. They can even send you new gifts if they like your streaming.
Other than this, you can also challenge other popular or famous live streamers side by side on Kik live video.
Now, let' see how you can make a live streaming video on Kik messenger on Android and iOS devices.
Quick Look: You can't use or stream abusive, sexual, nudity, misleading words, illegal activity, minors on Kik live streaming video. If you violate their terms and condition then your account will be deleted.
Step 1: Open Kik App
First of all, download the Kik app on your device (Android or iOS) and create a new account if you haven't done yet.
After that, open the app on your device.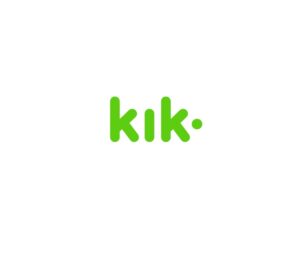 Step 2: Login to Your Account
Now, log in to your account if needed or you are using it after a long time. If you have forgotten your login credentials then use the recovery option to retrieve your Kik account back.
Step 3: Tap on Live Icon
Once you've access your Kik account and on the home section then tap on "Live TV icon" from the bottom right corner of the screen.
The Kik live icon looks like a Youtube icon but with black and white color.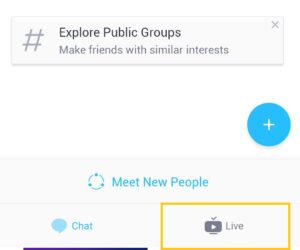 Step 4: Tap on Go Live
Once you tap on Live icon now you will land inside the world of the Kik online streaming platform. Here you can watch all the trending, new, and favorites streaming videos of other Kik streamers.
Other than this, you can also start your own online streaming on Kik. So, for that, simply, tap on the "Go live!" blue button from the bottom side.

Step 5: Checkmark Terms and Condition
Now, you will have to accept the terms and conditions of the Kik live streaming feature. Here you can't use nudity or pornography, hate speech or bullying, illegal activity, and minors on your live video.
So, before starting a broadcast video on Kik, first, checkmark on "terms of service and live-streaming content and conduct policy".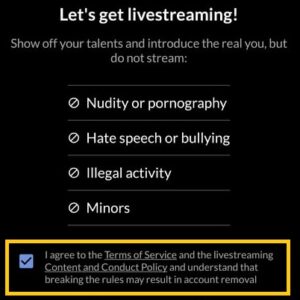 Step 6: Tap on Got It
After you agree to accept the terms and policy of the Kik live streaming service then simply tap on the "Got It" blue button.
Now it will take you to the final stage before starting your new online broadcasting on Kik app.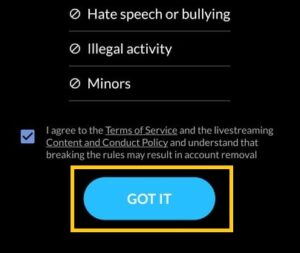 Step 7: Tap on Start!
Finally, add a description of your live streaming video that what your live is all about. Besides, you can also tag or mention your other streamer so that they can join your live or watch it.
After you completed all the above processes then simply tap on the "Start!" blue button. This way you can live chat on Kik through the streaming.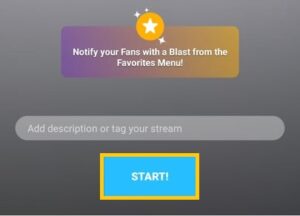 How to Cancel Live Stream on Kik?
You can also cancel your live streaming video on Kik app anytime you want. If you don't feel like streaming on Kik for some reason or your current topic is completed then you can cancel or end your stream.
Other than this, if someone is disturbing you on your streaming video on Kik then you can also leave your online stream.
So, to end online telecast on Kik app, follow the following steps down below.
Go to your live stream on Kik.
Tap on the "X" icon from the upper right corner of the screen during live.

Tap on the "End Stream" button.

Next, tap on the "X" icon from the upper right corner.

Now you have successfully canceled your Kik live streaming video. If you want to see how much you make a progress on Kik broadcast or earned your fans or diamonds then tap on the Settings icon from the bottom left corner of the screen.
How to Remove or Disable Kik Live Stream?
The live stream feature on Kik is not pleasant for all the users. There are lots of underage people on Kik who use the app only for chatting with their friends and family. So, the adult pictures and streaming videos of adult Kik users can be inappropriate for them.
Therefore, I have written an article on how to remove or disable live stream feature from Kik. So, follow the article and delete the live feature on Kik in no time if you don't want to see or use the streaming feature anymore.
In this way, you won't see any adult pictures or videos on your Kik home screen where your chat message is located. In addition to that, your Kik will be free from sexual streaming videos that may disturb you one way or another.
Is Kik Live Stream Free?
Yes, Kik live stream is completely free to use for all users. You don't have to pay a certain amount of money from your pocket to go live on Kik messenger.
The streaming feature of Kik is just like other streaming apps such as Bigo and more. You can stream whenever you want and wherever you want. The only money you have to spend on Kik stream is on gifts.
If you want to send a gift to someone on stream then you have to purchase it using the money. Otherwise, you don't have to pay a penny from your pocket to stream on the Kik app.
Can You Go Live on Kik?
Yes, you can go live on Kik with a new feature called "Go live." It is a huge new update from Kik on this year.
Kik hasn't updated its app since 2016 when it is verge to shut down because of the bad user experience. It has received lots of negative comments on the app such as child pornography, misleading user's information, and privacy of the users.
But now all those things are decreasing or managing slowly as Kik working on keeping their user safe on the platform.
So, they bring new updates on their app and roll out a "Go Live" feature.
Is It Safe to Live Stream on Kik?
The short answer – it depends on you.
If you create a streaming video and only interact with your fans or new people without releasing your personal things then you are good to go.
Other than this, most of the people on Kik live are adults so if you are an underage person then it might create a little bit of problem for you. That's why don't go live if you can't handle the adult chat message or comment or don't have a habit of these types of things.
However, it doesn't mean that every people are bad. There are still lots of users on Kik who can listen to your personal life story, your work, day-to-day things, and more. So, if you streaming and someone using the adult comment or you don't like that person then you can kick them out from live.
So, if you are a good person and spread positive things on your live video then you will have positive people to watch it.
Do Kik Live Streamers Earn Money?
Yes, Kik live streamers can earn real money from going live. You can convert your received gifts and rewards into actual money (Dollar). This is why most of the Kik users are on stream so that they can make some money. But you also need to complete the tasks while streaming. Just remember the more effort you put on your stream, the more money you can make.
Frequently Asked Questions
Can You Video Chat on Kik App?
No, you can't video chat on Kik app.
Does Anyone Use Kik Anymore 2022?
There are still millions of active users on Kik in 2022.
Can You be Scammed on Kik?
Yes, you can get scammed on Kik easily if you trust people easily on Kik.
Can You Know If Someone is Online on Kik?
If you see either D (Delivered) or R (Read) symbol beside the message you send then person is online on Kik.
Does Kik Have Call Feature?
No, Kik doesn't have a call feature on its app.
Can You Remove Live Stream Feature from Kik Messenger?
Yes, you can delete the live feature on the Kik app without any issue.
Last Word
A live stream is the coolest way to introduce you to a mass audience. You can become famous and gain lots of fans or followers if your stream is good and catching to the viewers.
So, go live on Kik with the help of the above-mentioned simple steps. Make new friends and spend your quality time with them. But don't forget to make your live stream neat and clean from unwanted things.
How do you like a new live feature of Kik? Let us know in the comment section down below.
Related Posts: