Kik introduces a new live streaming feature where users can go live just like on the Bigo app. You can share your personal life moment or meet new people through the streaming process. In addition, you can also watch other users streaming videos. But sometimes you can also see people doing unusual activities on the live video which can be inappropriate for some users. Most of the time, Kik automatically filters out those streaming to make a clean environment for every user. But still, people won't stop making those streaming videos and this is why you have to report them.
To report someone on Kik live stream, you will have to tap on the "Live" option from the bottom side and then select a person's profile or ongoing live stream. After that, tap on the "Exclamation sign" and tap on the "Report" button. Now, you have to choose the reason for reporting and type a message regarding reporting, and tap on "Submit Report".
So, today you will learn to report users on Kik live streaming app with the help of a few simple steps.
What is Kik Live and How Does It Work?
Kik live is a streaming feature that you can use to live stream on Kik. In other words, if you are bored of chatting with friends then you can start your stream and talk with strangers.
When you go live then anyone can join your stream for free. But you have to be popular to get the attention of tons of visitors. If nobody knows you expect your friends then it will be difficult for you to gain viewers in your live.
Once you are live then people can send you a gift, diamonds, or rewards if they like your stream. From those gifts, you can earn real money by converting them.
Besides, if you want to get famous then you have to complete the given task on Kik. After reaching a certain level from "New Babie" it will help you to reach the leaderboard and place your profile on the "Popular" section.
How to Wach Live on Kik?
If you are new to Kik and want to watch someone live on Kik then follow the following steps on Android and iPhone.
Step 1: Open Kik Messenger
The first thing you need to do is access your Kik account with a successful login.
Step 2: Tap on Live Button
Now, you have to tap on the "Live" option from the bottom right side of the home screen. This is where all the streaming are going on in Kik.
Step 3: Select a Kik User Profile
In the Kik live section, you will see tons of live streaming of Kik users that are new and old. So, choose a user's profile that you like the most and want to view their stream.
Step 4: Watch User's Live Stream
Now, you can view someone live on the Kik app without any issue. But remember, don't violate Kik's policy and terms in the stream, it will ban your account permanently.
Why Report Someone on Kik Live Stream?
There are various reasons why you have to report a Kik user's live session for your own safety and make a Kik live a neat and clean place for users.
The streamer is violating Kik's policy.
Someone is bullying you on your Live stream on Kik.
Kik user is spreading illegal things that are harmful and dangerous.
Users have used misleading and violent words.
Someone is doing an illegal activity that is disturbing other Kik users.
 A person is doing harmful and mature things to other Kik users.
A person is showing sexual content on their live session.
How to Report Someone on Kik Live Stream 2022?
To report people on Kik live stream you have to first join their streaming video. You can't simply find the user which you want to report outside the stream.
Once you find a person to whom you want to report or the live they are making then either go to their profile or simply choose the "Report" option.
But remember, Kik won't suddenly remove or stop their streaming video after your report. First, it will examine whether the live is violating their policy or not.
If the user's live stream comes under the terms and policy of Kik then they will take action of the account which you've just reported.
However, if a person is not violating any rules and making a clean video following the Kik policy then reporting their account won't cause any harm to them.
Even though you report someone live stream that has a clean feed multiple times just for fun or other reason then it is just a waste of time.
So, don't unnecessarily report people on Kik. If you don't like to see them in front of your Kik Live section then simply block the user.
Now, let's see the step-by-step process to get rid of someone from Kik's live stream.
Step 1: Open Kik Messenger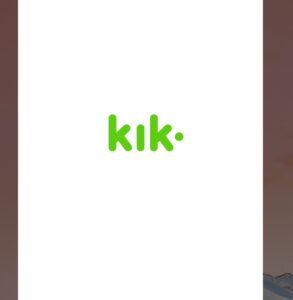 First of all, open the Kik app on your device. If you haven't downloaded the Kik app or deleted it for some reason then first get the Kik from Google Play Store for Android and App Store for iPhone.
But if you are using Kik messenger after a long time then you may have to log in to your account.
Step 2: Tap on Live option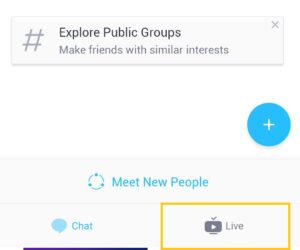 After accessing your Kik account then you will see a Live button from the bottom right corner of the screen. It is the place where you can watch or join all the live streaming videos of every Kik user in one place. In addition, you can also go live on Kik at the same time.
So, to report someone on Kik live stream, simply tap on the "Live" TV icon and move to the next process.
Step 3: Select a Users Profile
Once you are on the Kik live streaming section, here you can join or watch all streaming videos of different categories such as Trending, New, Favorites, and Leaderboards.
So, find a user whose stream you want to report. Simply scroll down and locate the user profile.
If you can't find the right user then you can also search by their Kik name or Live stream description from the upper left corner search bar. More, you can also use the Tag which a person might be using on the stream.
But remember the time you are searching for a person's streaming video; they might already end their live. So, once a stream is finished then you can't report the live video unless you want to report their profile on Kik.
Therefore, choose the right time and act quickly before you failed your mission.
Step 4: Tap on Report Sign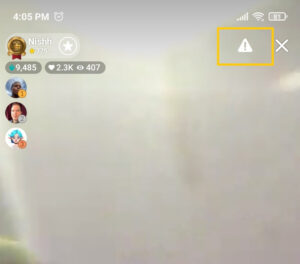 Now, after selecting a person's profile and joining their live, simply tap on the "exclamation sign" error from the upper right corner next to the "X" icon.
After that, it will ask you one last time whether you want to report users or not. This is actually a confirmation process because most of the time users accidentally tap on the report of the live stream which they are watching.
So, if you accidentally report a user on Kik live stream then it will be inappropriate.
Step 5: Tap on Report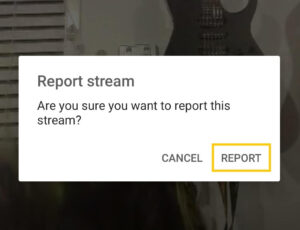 Finally, if are sure to remove the live stream of a person you don't like then tap on the "Report" button.
Now, Kik will review your report and will determine whether to remove that person or prevent them from creating another new Livestream.
Step 6: Select Your Reason for Reporting
After tapping on the report button, now you have to pick a reason why you are reporting their live stream for underage users, sexual content, bullying, hate speech, illegal activity, self-harm, or others.
Step 7: Write a Reason for Reporting
Now, you can give more detailed information behind the report so that it helps Kik to mine out more info about the report. So, you can write full things about that person and their ongoing live session.
Step 8: Attach an Image or Screen Recording
You can also attach the picture of the live or their profile and the screen record of their live stream. This will help Kik to examine whether it violates their policy and whether your report is correct or not.
Step 9: Tap on Submit Report Button
Finally after writing a report description and attaching a screenshot or video, tap on the "Submit Report" button.
What Happen When You Report Someone on Kik Live?
Have you ever reported someone's telecast video on Kik and wondered what will happen next?
Well, when you report a user's Kik streaming video then Kik will receive a message of your report. After that, they will start to review the whole live stream from the beginning to find out the error or mistakes a person has made while streaming.
If Kik finds any mistake that violates its terms and policy then it will first send a warning message to a person. It won't simply remove or stop the streaming suddenly right after you make a report.
But if lots of users start to report a live stream of a person then Kik will delete that video for good to make a safe and clean place for every user.
On the other, it's not as simple to remove someone's Livestream video after reporting. That's because Kik already has tons of bots that filter out user Livestream every second. If there is any misleading, abusive or nudity, or other words in a live then it will automatically ban a user for good.
So, when you report a person then it may take a longer time to see a result.
Do Users Know When You Report Their Profile on Kik Live Stream?
No, when you report someone's account or Livestream then a person will never know that you want to take out their Livestream.
Kik will first check the full issue behind the reporting. If the report is not valid and the user didn't break any policy or terms of Kik then it will not harm their account.
However, if a report is positive then Kik will either ban or remove a person's Livestream. AT that time, they will let a person know that your video is removed because of a report or that someone has reported your live.
So, if you frequently do a stream on Kik to meet new people and share good information then you don't have to worry about the report thing. It will not affect your account at any cost even though someone reports your account or live.
But don't break the rules and policy of Kik at all. It will not only remove your content but will permanently ban your Kik account.
How Many Times Do You Have to Report Someone's Livestream on Kik to Delete their Content?
It doesn't matter how many times you report a user's Livestream to delete their content.
When you report for the first time then Kik will already know that you've reported someone streaming video. It will start to check the Livestream from the time when you submit a report.
So, if a person didn't have violated any rules or policy then reporting multiple times won't affect a person streaming. In fact, it's just a waste of your time.
Therefore, don't report over and over again thinking about Kik will take action of that user account.
Can You Report a Kik Live After Ending?
No, you can't report a live stream on Kik when it's over. In other words, when someone ends their live then you can't report their stream. But you can report a user on Kik who is doing a live session by going to their profile. If you think that a person is doing illegal things and harming others and going to be in the future then simply report their account.
How Many Times Can You Report Someone on Kik Live Stream?
You can report someone's Kik live as many times as you want. There is no any limitation on reporting someone on Kik whether ist their profile or live. If someone is doing harmful and mature things on Kik or disturbing your peace from time to time then you have a full right to report that user.
How to Go Live on Kik in 2022?
If you want to go live on the Kik app then you have to download the latest version of Kik. After that, use the "Live" feature and you are online.
Now, let's see the step-by-step process.
Step 1: Open Kik App
First of all, open the Kik messenger on your device whether it's Android or IOS. After that, log in to your account if needed.
Step 2: Tap on "Live" Option
Once you access your Kik account then tap on the "Live" button from the bottom right corner of the screen. After that, you will have all the Kik user streams in a single place.
Step 3: Tap on "Go Live" Option
Now, tap on the "Go Live" blue button from the bottom middle side. This is where you can start a live stream.
Step 4: Accept the Term & Condition
Next, you have to accept the "Terms & Conditions" of Kik so that you won't get kicked or banned from your account for violating its rules and regulation.
Step 4: Tap on "Start" Button
Finally, after agreeing on the terms and conditions then tap on "Start" to begin your Kik stream. Now, you can talk with strangers who join your stream from all around the world.
Frequently Asked Questions
Can Someone Report You on Kik Live Streaming App?
Yes, anyone can report your live streaming on Kik messenger.
Does Kik Show Your Phone Number?
No, Kik doesn't show your personal phone number to anyone that you have added it while creating an account.
Can You Disable Live Streaming Feature on Kik?
No, you can't disable the live streaming feature on Kik but you can download the older version of the Kik app where there is no "Live" feature available.
How Do You Know If Someone is Live on Kik?
If you want to know if someone is live on Kik then you have to "Favorite" that person so Kik will send you a notification whenever that person has started Livestream.
Does Kik Show Your Email?
No, Kik doesn't show your personal email address to anyone that you have added while creating an account.
Final Verdict
Live feature on Kik is a fun thing that helps you to get out yourself from a boring time. You can start your own live stream and talk to thousands of strangers from all over the world.
And if you don't feel like starting your own then you can watch or join others. But the most important part, you can also report someone's live video if you don't like them for some reason.
But again, don't casually start your journey on reporting each and every user Livestream on Kik – it's not a good thing.
How do you like our article?
Related Articles