As a new user, you will love exploring the videos on TikTok a lot. There are millions of users showing their talents by uploading videos. It's pretty simple to react to the videos if you like them.
Just tap on the love-shaped icon that appeared over the video from your profile section.  There you can later check all the videos that you liked.
So, how to find your liked videos on TikTok step by step? Well, you will find all the liked videos on your profile.
Check the detailed instruction below:
How To Find Your Liked Videos on TikTok?
TikTok has a very simple-to-use app design and doesn't confuse the user. It's easy to browse and upload videos. As a new user, you don't even need to create an account to watch videos. TikTok allows watching videos in guest mode.
If you are looking for the videos you liked: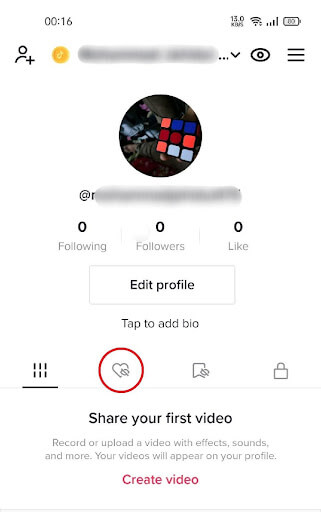 Step 1. First, go to your profile.
Step 2. After that, there will be a love icon under your profile details. You can also see crossed love icon in the middle section.
Step 3. Now, tap on the love icon under your Tiktok username.
Step 4. Here your Tiktok liked videos will appear there.
There will be all the liked videos with a total view count. You can rewatch the videos from there.
How Can I Show My Liked Videos To My Followers On TikTok?
Now, you know you have to find your liked videos. So, are they visible to your followers? There are settings to make the liked videos public to your followers. Changing the Privacy of your liked videos is pretty simple. You will find the control in the 'Setting and Privacy' option.
But if you are new to TikTok and looking for detailed instructions, check the below steps with images to make your liked video available for your followers –
Step 1. First, Go to your Profile.
Step 2. Now, search for the three lines on the top left. Click on this icon.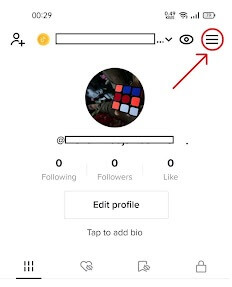 Step 3. There will be a popup with two options. Select the one that shows Settings and Privacy. This will take you to the main settings option of TikTok.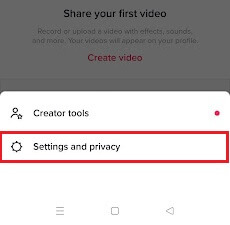 Step 4. Now look for the Privacy option. Privacy will be available within the top 3-4 options as users are always concerned about their privacy while using any app. In the latest version, it's available on the 2nd row, Click on it.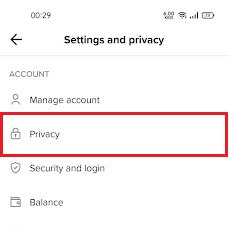 Step 5. Scroll down to the bottom till you find the 'Liked Videos' option, Tap on it.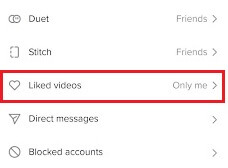 Step 6. There will be the option of changing liked video privacy. Change it to Everyone. Selecting Everyone will make your videos public to your followers.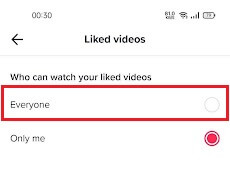 Step 7. On the other hand, if you select Only Me, the liked videos will be shown to only you.
This is how you change the liked video privacy for followers and other users. If you want to keep things private, you can change the privacy to 'Only Me.' Your liked videos won't be visible to your followers.
Why Did My Liked Tiktok Videos Disappear?
There are different reasons why you can't see liked videos on Tiktok anymore.
#Reason 1. Deleted Video
If you liked someone's video on Tiktok and they deleted that video from their account then you will see the video. Tiktok will permanently remove the user's video from his/her account which can't be restive back.
So, make sure that a user's video is still available on their account not deleted.
#Reason 2. The video Was on Private
When a video publisher set their video to private on Tiktok then it will disappear from your liked video section. You can't be able to see the video that you liked.
But don't worry, private videos are only for a short period of time which are temporary. If a user again set the video status to 'Public' from 'private' then it will be available in your liked video section.
#Reason 3. User Has Blocked You
Blocking is another reason why liked videos disappear on Tiktok. If you've liked someone's video from time to time but they block you for some reason then you won't be able to view their liked content.
In other words, every liked video you see from your profile will be removed temporarily. But if a person unblocks you on Tiktok then you can again see the liked video.
#Reason 4. Video Taken Down By Tiktok
Tiktok has strict rules who violate their policy. They will immediately take action against such videos or Tiktok profiles that are against the guidelines of Tiktok.
So, for some reason, if a video of the user was taken down by Tiktok then it will also not be visible on your liked video. This action can be temporary or permanent depending on the violation code of Tiktok.
How Can I Get More Likes On Tiktok?
If you are trying to make content on TikTok, a good response will definitely inspire you to continue posting. This will take time and you should have patience. Be consistent while uploading videos. Don't post any cringy or abusive videos as this may disturb other users. Try to focus on quality as uploading quality content will let your videos get fast TikTok likes.
If you manage to get good views on your profile, you may get sponsorship offers from companies. In addition, TikTok also offers monetization for videos. So keep making videos and maintain the quality. Have a glance at the below points that may help you to get more likes on your TikTok videos –
#Process 1. Keep it Simple
Keep your TikTok profile simple. Upload a beautiful picture of yourself that keeps your face in focus. Create a username that is easy to remember. Don't use any fake or made-up name as a beginner.
Using a real name helps to build an identity. If a user likes your videos, they will remember your name and will search for your videos.
#Process 2. Upload Unique Content
They may get bored of the same content again and again. Follow other users but don't copy the same theme. Keep your content unique. Uploading unique content will impress users and is going to make your video reach more users. The more views it has, the more followers you will get. People browse to see something new.
#Process 3. Engage with Users
If your videos are getting good views and comments, try to interact with other users. Reply to their comments in a positive way. There will be both positive and negative comments. Try to handle the criticism as you are going to face it a lot. There are different types of users available on TikTok so be ready to face it. Don't be sad about any negative feedback.
#Process 4. Create Shorter Videos
TikTok is popular for its short videos. There is an exception for users who are getting famous for long videos. They are trying to tell a story with longer videos. As a new user, you should keep your videos short. Try to entertain users with short videos.
#Process 5. Quality Matters
Whether it's TikTok or any other social media, quality always matters. You should make your content with good background and color. Focus on lighting and other equipment. If you are using a real soundtrack make sure it's clean and natural.
#Process 6. Follow Trends
Following trends will make your TikTok video popular easily. Use a popular soundtrack or video theme. If you can catch the attention of users through your video, they are going to definitely notice you and your videos. Popular TikTok videos trend on other social media as well. Share your videos on Facebook and Instagram to generate fans from there.
Frequently Asked Questions
1. Can You Check Your Like Video On TikTok?
Yes, you can easily check your liked videos on Tiktok from the profile section.
2. How To See if You Have Viewed or Stalk Your Tiktok Profile?
To see if you have viewed or stalked your Tiktok profile simply go to your profile section and tap on the "Eye" icon from the upper right side. There you will see the list of people who have viewed your profile on Tiktok.
3. Can You Stalk on Tiktok?
Yes, you can view someone's profile or stalk profile on Tiktok.
5. Can You Check Someone's Liked Video on Tiktok?
Yes, you can easily check someone's liked video on Tiktok from the inbox section.
Bottom Line
Exploring videos on TikTok is fun. You don't need to save any videos you liked. Just react to the love icon and the video will be available on your profile under the love icon. You can share your liked videos with your followers or even hide them as well. There is an easy setting that allows users to hide the liked videos from followers.
So, follow the above-mentioned steps to find Your Liked Videos on TikTok.
Related Articles: