Do you want to learn how to use WordPress to build a website?
WordPress is probably the best content management system that allows you to create a website within a few minutes. It is a powerful tool that anyone can use for blogging, selling products through an online store, making your own portfolios, and more.
Similarly, it also provides a wide range of plugins and themes (free and paid) which you can use to customize your website as you want. The aim of WordPress is to make it easier for everyone to make their presence on the internet whether you are a beginner or expert.
So, if you are a beginner and want to create your own WordPress website then you just need a domain and hosting. After that, merge them together and install a WordPress on it. Finally, choose a theme for your new to-build website and you are live.
Now, let's see the step-by-step process to use WordPress for free and post your first content within a few minutes.
What is WordPress?
Like I said WordPress is used for building your own website without letting someone else create one. If you don't want to spend thousands from your pocket for a site that you want to use for personal or business purposes then you can simply go with WordPress.
But why it is so popular and best for beginners?
WordPress is a free open-source CMS that has thousands of pre-build tools and plugins. You can modify your site just as you want whether from the source code or using additional CSS.  It will respond or change according to your command which is your code.
Besides, it has modern (Updated) build code that you can find on most of the websites nowadays. So, you don't have to worry about thinking about why my site looks so outdated.
Other than this, you can use tons of Plugins to customize your site just like a mobile app for your device. You can easily change the style and the overall structure of the site even though you don't have knowledge of coding, sounds interesting isn't it?
Furthermore, WordPress is versatile which means you can run any types of website which you are thinking about. It can be from blogging to an e-commerce business. Simply choose your niche then go for it.
Similarly, every WordPress websites are user-friendly and responsive. It means it can run on any platform such as desktop, mobile, and tablet.
So, if you are just a beginner and thinking about launching a new website that is free, simple, stylish, responsive, and versatile then you can definitely go with WordPress.
How to Use WordPress for Beginners 2022?
Using WordPress for the first time is not a difficult task. You just need to have a domain and a hosting that you can purchase from various hosting companies.
But the challenging part is to choose a niche for your website. You have to make sure that your niche (topic) is perfect for the website which you are going to build. If you select a random niche and create a site then it will be difficult for you to change it back.
So, always think twice and do tons of research before launching your site.
Now, let's get down to business to create a website using WordPress for the first time as a beginner.
Step 1: Select a Domain

The first thing which you should do as beginners before creating or using a WordPress website is to find a domain for your site. You have to be very careful while choosing a domain name for the first time.
A domain is like a Website identity or address that helps to recognize your site on the internet. When someone wants to visit your site to check its service or content then they use your website domain name such as "themegrill.com" or "xyzpower.com".
So, make sure that the domain name is suitable and perfect for your site. It will be even better if you can find a domain name that matches your content.
Suppose, if you want to build a gaming blogging website then it will be great if you choose a domain name similar to your niche. You can use "gamingtime.com" or "onlinegaing.com" or many more.
So, either visit Godaddy, Namecheap, or Hostinger in order to purchase your domain name (.com, .online, .xyz, .link, .org). Simply search for the domain name whether it's available or not.
In this section, I'm using Hostinger to buy a domain.
Visit Hostinger official website.
Click on the domain menu from the upper header section.
After that, select the Domain checker option.
Next, search for the domain which you want to use in the search bar.
If the domain is available then click on Add to chart.
Finally, pay the payment and purchase your domain name.
Step 2: Purchase and Setup Hosting Account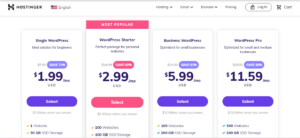 The second step is to purchase hosting after you select your domain name.
Simply think hosting is like your property or land and your website is your house. If you don't have land then how could you build a house?
So, buy the hosting and domain at the same time from Namecheap, Godaddy, or Hostinger. If you purchase your domain and hosting from the same place then it will be a little bit cheaper than purchasing separately.
Moreover, it will also be easier for you to set up hosting and domain. This is the part where most beginner makes a mistake. If you don't link the domain and hosting properly then you can't install WordPress on it.
So, follow the following steps to purchase hosting from hostinger.
Go to the official website of hostinger.
Click on the Hosting option from the upper header side.
Now, select WordPress hosting.
Next, select the hosting plan whether shared, business, starter, or pro.
After choosing the hosting plan, provide your card details and make a payment.
Now, you will be redirected to your hostinger account.
So, click on the Hosting option from the top menu bar.
Scroll down and click on the Setup button to set up your hosting.
Next, select your domain name and finish the setup process.
Step 3: Install WordPress
Once your domain and hosting are linked successfully then you have to install WordPress.
You don't have to download WordPress from an additional source. Simply go to the control panel of the hostinger and install WordPress.
Besides, when you are installing WordPress then you have to provide the exact correct detail of the domain name (Website name). But don't worry; hostinger will automatically select your domain if it is merged successfully.
In case, you can't locate your domain name (URL) then there can be an issue while linking a domain to hosting.
Go to the Control Panel of the hostinger.
Scroll down and select Auto Installer under Websites.
Now, click on WordPress.
Next, type a username, email, and password for your website.
After that, provide a title of your website and click on the Install button.
Wait for a few minutes and complete the installation process.
Once the installation process is completed then click on your website URL to access your newly build WordPress website as a beginner.
Step 4: Select a WordPress Templates or Themes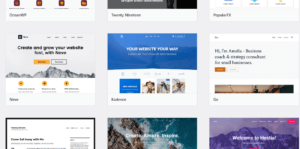 The next step which you have to follow after installing the WordPress website is to select the theme for your site. It's like setting up the furniture for your new build a house.
So, you must choose and download the theme templates within WordPress and decorate your website. There are lots of free themes available on WordPress which are stylish, responsive, and fast.
Other than this, you can also download the WordPress theme from external sources such as ThemeGrill. It is the best website that offers a wide range of fast, lightweight, and customizable amazing WordPress themes.
Now, to download a WordPress theme, simply
Go to your Website dashboard.
Click on Appearance from the left side panel.
After that, select Themes.
Next, click on Add New button from the upper side next to Themes.
Finally, search for your desired theme and download it.
Step 5: Customize Your Website Dashboard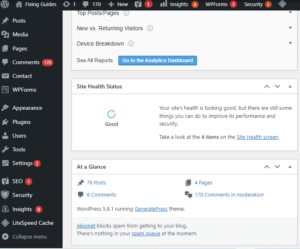 After completing all the above 4 steps, finally, customize your Website. It means you've installed the theme so now you have to customize your overall theme by removing unnecessary pages, bars or sections, and more.
You can also add the plugins if you want. But it's not quite necessary for beginners to add additional plugins on WordPress. If you don't know which plugin you are installing then stop it right there. It will only decrease the speed and the performance of the website.
How Long It Will Take to Learn WordPress?
If you want to learn WordPress to build a beautiful website of your own from the scratch then it's just a matter of your time. The passion and the dedication which you put into learning WordPress is the result of your site.
Saying that, if you just want to learn basic things on WordPress such as making a site with the help of a theme and other plugins then you can learn it in 1 hour.
However, if your aim is to understand every aspect of WordPress from the beginning then it can take up to 1 month or even more depend on your understanding and knowledge.
So, if you have a dedication to learning WordPress then you will understand it more quickly than you think.
Is WordPress Safe from Hackers?
Yes, WordPress is safe from hackers. But remember, not every website is safe pr can't be hacked to access by an unauthorized person. It means there can be vulnerabilities on the side in one way or another.
However, it doesn't mean that WordPress is easy to break-in. It has high-level security that protects every user's data and their site from hackers.
If a hacker tries to access your WordPress website then it would be a massive breach. So, unless you don't open your site to an unauthorized person or give your login credentials then your WordPress site is safe.
Also, don't add random plugins to your website, it can breach your site security level if it was built for that. Therefore, only download the plugins that are trusted and have a good users rating or experience.
Does Google Favor WordPress?
No, Google doesn't favor WordPress at all.
If you are building a good website and it has a good page speed as well as a blog post then it will be easier to be with the Google ranking algorithm.
So, it doesn't matter whether you are using WordPress to build a website or other tools.
Frequently Asked Questions
Is WordPress Easy to Use for Beginners?
Yes, WordPress is quite easy to use for all beginners who are looking for creating their own website with minimum cost.
Is WordPress Easier than HTML?
Yes, WordPress is easier than HTML when it comes to customizing the overall site because of a wide variety of plugins and customizable features.
Does Anyone Still Use WordPress in 2022?
Yes, there are thousands of people who are still using WordPress to build their own websites for e-commerce, personal blog, or business purposes.
Which is Better for SEO, HTML, or WordPress?
HTML is a little bit better when it comes to the SEO that can rank in the Google SERP. That's because it doesn't have plugins that are best for the security as well as overall page speed.
Do I Need to Download WordPress to Make a Website?
If you are thinking about creating a website using WordPress then you have to first download it on your hosting and install the WordPress.
Do I Need to Know Coding for WordPress?
No, you don't need to know coding to create a WordPress website of your own. But if you have a little bit of knowledge of coding then it will be beneficial for you if you want to customize your site as per your desire.
Conclusion
WordPress is perfect for beginners to create their own website without the help of someone or a developer. You can instantly build an eye-catching and engaging site if you follow the right method.
So, do remember the above steps while making your first WordPress website. But also remember, find a good niche which you are really good at.
Was this article helps?
For more WordPress-related articles visit Fixing Guides.